JOIN RAVEN FOR 'A NIGHT OF EXTREME' ON MARCH 31ST IN ORLANDO, FL WITH TOMMY DREAMER & STEVIE RICHARDS LIVE!

POSTED ON March 18 2017
Join us for an Evening of EXTREME with Tommy Dreamer, Raven, and Stevie Richards following the Hall of Fame! They'll be telling their stories, drinking beers and doing a Q&A! The ECW originals go on after the WWE Hall of Fame, so if you're not going make sure to check out the extreme line up!

Former NXT superstar Zahra will also be hosting a Q&A with fans leading up to the ECW panel.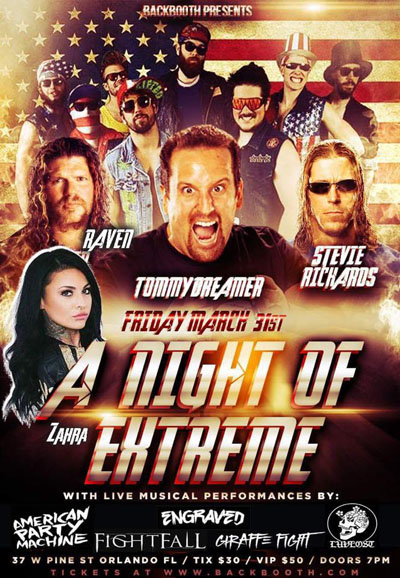 Plus performances by:
American Party Machine
Fight Fall
Engraved
Giraffe Fight
Luv Lost

Tickets at http://backbooth.com/Shows.html
General Admission - $30
VIP Tickets (includes signing, photo and GA) - $50
EXTREME VIP Tickets (includes exclusive event poster, t-shirt, signing and photo) -$60

Event starts at 7pm and goes on all night!

Backbooth is a 3 minute walk from the Amway Center. The ECW panel will go on right after the WWE Hall of Fame!